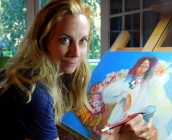 Barbara has a B.A. from the University of Wisconsin, Madison; a JD from the University of Texas; and an LLM from New York University.

She has studied fine arts at the National Academy of Design; the School of Visual Arts; the New York Academy; Cooper Union and the Silvermine School of Art.

Barbara is an invited member of the Catherine Lorillard Wolfe Art Club, the North East Watercolor Society (signature member); the National Association of Women Artists, and the National Arts Club as an Exhibiting Member in New York, New York; the Connecticut Women Artists and the Connecticut Academy of Fine Arts. She is an award winning attendee of the annual Westport Arts Festival in Westport, Ct. Her work was recently recognized by Art Saves Humanity, curated by Jerry Saltz of New York Magazine to create awareness of art in the current pandemic and as an invitee of the Allied Artists of America 107th Annual Exhibition.